Intruder alarm installation in Yorkshire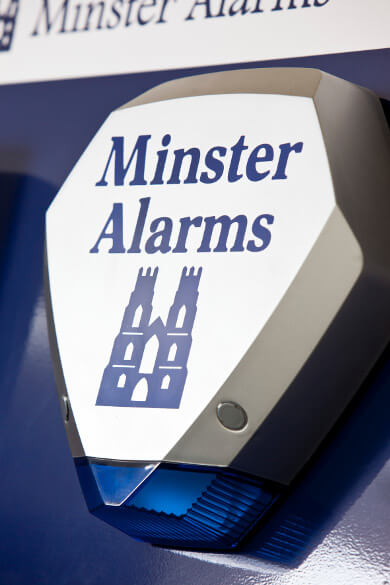 Minster Alarms have been trusted providers of intruder alarm installation in Yorkshire since 1981.
Whether you require a trustworthy and user-friendly alarm for your home or a more complex system to secure your business, we can design, supply, install, monitor and maintain the system. We'll also provide a free quotation after you contact us to make an enquiry, to ensure you have a clear idea of the cost of securing your property from the outset.
We carry the NACOSS Gold Standard from the National Security Inspectorate (NSI), which guarantees the quality of our installations and long-term customer care is at an industry-leading level.
Domestic intruder alarm installation
Minster Alarms is one of the best established and most trusted companies offering domestic intruder alarm installation and servicing. We provide a variety of wired and wireless intruder alarms to suit your property type and personal requirements. All our alarms are built and maintained according to the latest British and European regulations.
Wireless home security systems
Our wireless systems utilise the latest radio technology to communicate between devices. Wire free systems are quick and easy to install, and will blend seamlessly into your home interior. This is often the best option in homes which are already decorated, or where wooden floors or listed features may be an obstacle to installation. Wireless intruder alarm systems from Minster Alarms can be used with either localised bell sounders or remote monitoring, according to your preference – we are happy to advise on this issue for those of you who are unsure. The animal lovers amongst you will be happy to hear our wireless systems have the facility to accommodate small pets – they'll catch cat burglars, but not the family cat.
Wired home security systems
We also offer hard wired domestic intruder alarm systems, which tend to be well suited to new builds, renovation projects and existing premises with suitable architecture and decoration. Our wired alarms can also be set to accommodate small pets. These systems can also be monitored remotely if required.
Commercial intruder alarm installation
We provide a choice of wireless and hard wired intruder alarm systems for our commercial customers – the ideal type will depend on your individual circumstances and the size of the premises. Our cutting edge security systems are fully scalable, to suit businesses big and small. Most of our systems, domestic or commercial, can be equipped with proximity tags, which allow users to set and unset the system without having to remember a code. Panic buttons can also be fitted for added security. Audible systems can be enhanced through the addition of a speech dialler, which can relay a recorded message or send a text to your designated phone contacts in the event of an alarm activation.
Intruder alarm monitoring
We offer a range of intruder system monitoring options, catering for a full range of commercial and domestic security systems and requirements. Our automated monitoring systems instantly notify your designated keyholders and/or the Alarm Receiving Centre (ARC) in the event of your alarm being triggered.
Our intruder alarm monitoring options range from digital communicators to the highly advanced RedCare GSM package. We're happy to discuss this issue with you to identify a monitoring option that gives you security and peace-of-mind, whilst also satisfying any insurance requirements concerning your property.
You can find more information on our monitoring options here.