Fire alarm installation in Yorkshire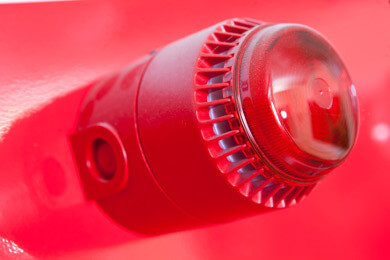 Minster Alarms are leading providers of fire alarm installation in Yorkshire, with over 35 years' experience in keeping people and properties safe. Whether you're a home-owner or a business, we can supply, install and maintain the perfect fire alarm to keep you safe – and we're happy to carry out maintenance on existing systems too.
We install and maintain both conventional, hard-wired fire alarm systems and wireless radio fire alarm systems. A full survey of your home or business premises will be undertaken before installation, to ensure the system specified meets the relevant UK fire regulations and standards.
Smoke and heat sensors can also be connected to our audible intruder alarm systems, to activate the alarm in the event of a fire – an efficient solution to protect against both fire and intruders.
For those who require a monitored fire alarm system, we specify a BT Redcare Fire Subscriber Terminal Unit (STU), which will constantly monitor your premises and instantly alert the Alarm Receiving Centre in the event of a fire. A rapid response by the fire service can limit damage and save lives.
Every Minster Alarms fire alarm system is made in compliance with BS5839-1 Code of Practice for Fire Detection and Alarm Systems for Buildings. Once your system is installed, we offer regular servicing and 24-hour emergency call-out, with a year's warranty on all installations.
Wireless radio fire alarm systems
Wireless radio fire alarm systems are an increasingly popular option for home and business owners, with performance and reliability to rival that of hard-wired systems. They're quick to install and will cause minimal disruption to décor. The only cable that is required is a mains supply cable to the control and radio relay panels. Long lasting batteries are installed in the detectors, and the system can be scaled to suit your property.
Contact us today for a free quotation on fire alarm installation for your home or business.
Fire safety regulations
Under the regulatory reform (fire safety) order 2005, all businesses must comply with fire safety law, carry out a fire risk assessment and identify the general fire precautions which they need to have in place.
Although Minster Alarms supplies and installs fire alarm systems to the latest European standards, we believe that fire risk assessments should be undertaken by independent specialists, the company we would recommend and indeed chose for our own fire risk assessments is Avert Fire Services who would be happy to help you. For further details, visit their website.